AVANTE Rail Operation and Freight System

Rail cargo transport is critical to the economic development of emerging economies in Africa, South America and Asia.  Real-time, web-based visibility of cargo and rail rolling stock assets enhance the value of the international supply chain.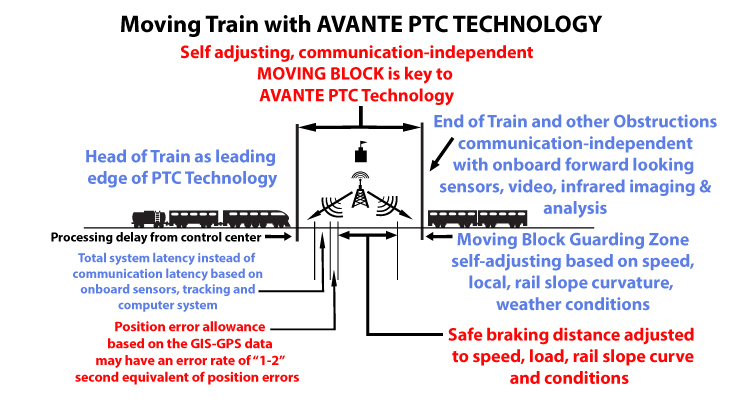 In some countries system-wide Positive Train Control (PTC) on all lines where passenger and/or TIH (toxic inhalation hazard) traffic operates is a mandate. However, PTC can also be effective in operational efficiency when technologies are incorporated to provide visibility and control of rail operations.
According to the 2010 GAO report (http://www.gao.gov/new.items/d11133.pdf ,) in the last 10 years of rail accidents: 35% are attributable to human error, 32% are attributable to rail track defects, 12% to equipment failure, 7% rail crossing, 2% signal problems and 13% other. The currently mandated PTC solution can only address 30% of the causes.
Similarly, the European Railway Agency (ERA) has estimated that open line freight derailments cost the EU more than 200 million Euros per year (ERA, 2009). Previous research (DNV, 2011) suggests 3.7 fatalities per year on average occur due to release of dangerous goods incidents, and 0.2 fatalities due to other derailments. The analysis was conducted for freight train derailments on main lines. This excluded a large number of derailments occurring in shunting yards which do not incur significant costs (and may not even be reported.)  Within Europe rolling stock causes are responsible for 38% of major freight train derailments, followed by infrastructure (34%,) and operations (22%.)
For both the USA and Russia, structural failure of the track superstructure is more likely to be the cause of derailment than track geometry failure. In Europe by contrast, track geometry failure is more likely to be the cause of derailment. AVANTE Rail Safety Technologies and Solutions have been designed to address most of the causes of rail accidents while also providing supplemental benefits.
AVANTE's Rail Operation and Cargo Management System is a web-based solution incorporating many unique technologies such as RFID-based sensors, optical-infrared-Doppler Radar, GPS-GPRS-Satellite and Wireless Broadband technologies to provide cost effective, real-time visibility of freight solutions.
The following are some of the basic functions that have been deployed effectively in Africa:
Wagon booking and payment management
Train formation, wagon shunting and train scheduling
Crew assignment and management
Real-time fuel level and consumption incorporating digital fuel sensors
Real-time train-wagon-cargo status and location tracking
Positive train control with "moving block" speed limit control using GPS, cellular and satellite communication technologies;
Optional additional visibility assistance to train engineers with unique system coupling of IR-Imaging-Radar technologies.
Optional real-time track condition monitoring

AVANTE's Rail Cargo Freight and Rail Operation Management System is also applicable for efficient management of passenger trains and providing the visibility of train availability and status over the Internet and mobile communication platform.
Download more information on this system in pdf format here.

Please click on the link above to contact AVANTE for more details.