AVANTE BIOMETRIC REGISTRATION SOLUTION FOR NATIONAL ID, VOTING, DRIVING AND OTHER APPLICATIONS
Incorporating the biometrics of an individual is now a critical aspect whenever security, safety and privileges are involved. In addition to verifying one's ability to drive, a driver's license is also one form of identification commonly used to identify individuals like a form of national ID card. As such, a driver's license or other form of identification must be secured against counterfeiting and tampering.  To qualify as a registered voter, individuals must first present a federal or national ID card. Voter registration applications may be a component of a larger national ID solution.
Traditional counterfeit prevention uses optical holograms, special printing inks and features similar to that of printed money. Still, one can find many websites offering "services" to provide a fake driver's license or related identification. With additional efforts in enhancing national and international security, ICAO is now promoting a passport system that uses RFID smart card chips embedded within the pages of passport books to improve security against tampering and counterfeiting.
AVANTE has extensive experience and patented technologies providing identification registration systems.  AVANTE also has experience issuing badges and cards for a variety of applications, including driver licensing, national identification, voter registration, and commercial applications such as access control systems and visitor and show attendee registration and badging applications.  Besides using traditional specialty printing and holographic digital images for anti-counterfeiting and tampering prevention, AVANTE uses RFID and data encryption for additional security.
AVANTE Driver License Management System (DLMS) and optional National Identification System (NIDS) uses web-based technology or a centralized and controlled database solution to address diverse business and technical requirements.  AVANTE has experience producing and has successfully developed, installed and operated all facets of Driver's License and National Identification Management Systems.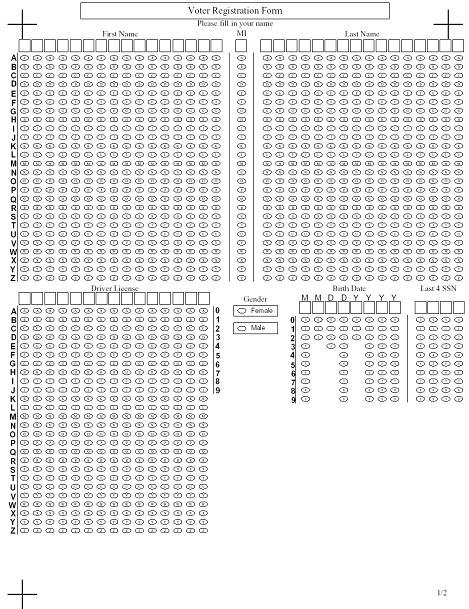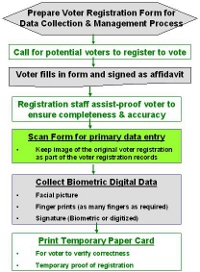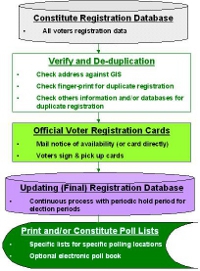 AVANTE Biometric Registration Systems and Solutions include the following components:
Digital facial image capture
Fingerprints digital image capture and minutia templates formation
Dynamic digitized signature capturing with AVANTE patented "movie" of signing for full biometric authentication (US 6,694,045)
RFID smart card driver's license cards with photo-image, fingerprint image and/or digitized signature and personal data encoded AVANTE patented relational check codes to prevent tampering and counterfeiting (US 6,961,000)
RFID smart card national ID and/or voter cards with photo-image, fingerprint image and/or digitized signature and personal data encoded with AVANTE patented relational check codes to prevent tampering and counterfeiting (US 6,961,000)
Online and onsite driver's license, national identification, voter registration form design, print and distribution
Handheld RFID smart card reader system for stationary and mobile authentication of RFID smart cards
Activities based track-and-trace using patented RFID smart card technology (US 6,883,710)
Implementation for logistical and project management
System integration including procurement and delivery of all components
.NET web-based automated data capture technology for both onsite and online application
OVERVIEW AND APPLICATION SPECIFICATIONS
Original voter filled registration form image scanning and data capturing:
AVANTE's Biometric Voter Registration Solution creates and prints voter registration with OMR automatic data capturing format with unique form identifiers.
Voters complete the forms by filling in the ovals of the OMR forms. Voter registration staff may assist those that need help in filling out the registration form.
The form is scanned and the personal and demographic data is automatically captured.
Staff checks for accuracy and completeness of data before capturing voter biometrics.

Image capturing:
AVANTE's Biometric Voter Registration Solution captures facial images in conformance to the quality requirement of ICAO and in compliance to ISO standard 19794-5.
Programmed to automatically capture multiple sequential facial images over a period of seconds to ensure that choices are available with both eyes open.
Automatically checks for brightness to ensure acceptable image quality.
Optional manual cropping to ensure facial image quality.

Fingerprint Capture and Verification:
Captures and stores finger images into templates of minutia in compliance with ISO 19794-2 for use in automatic finger identification (AFIS). (1:1 matching)
Finger image data are stored in BMP and compressed file formats. These images may be converted with current or future generation software fingerprint templates for processing (primarily used for identification or 1:N matching)
AVANTE's Biometric Voter Registration Solution has been engineered to capture multiple fingerprint image samples from each finger and ensure all samples have sufficient image quality and are convertible into template minutia.
Automatically detects and ensures that fingerprint images are captured with acceptable contrast ratios, sufficient ridge quality and include the detection and prevention of partial finger prints on the sensor.
Supports a variety of fingerprint sensor technologies including interoperability between many sensor types and manufacturers.
Support for multiple database platforms as well as flat file data structures.
Live feedback to operator instructing on placement and movement of fingers

Signature collection:
Direct digital signature capturing using electronic signature pad. Optional dynamic biometric signature may be captured and used for additional biometric authentication.
Alternatively, digital image of the signature can be captured using document imaging scanner with at least 300 dpi resolution from the original voter registration form.
While physical biometrics are more definitive in identifying an individual whenever applicable, when physical biometrics cannot be used based on privacy objections, dynamic signature biometrics may be a good option for such identification applications. AVANTE patented D-Sign dynamic signature technology represents one of the most advanced solutions that captures the "movie" of how the signature is made and authenticates the signature by comparing the same.
BIOMETRIC SIGNATURE AUTHENTICATION – Digitized Signature With Full Signature Biometrics Using Less Than 300 Bytes
The first digitized biometric signature capturing how the signature is signed with full "movie" rather than traditional template data.
Patented most efficient biometric capturing method using less than 300 bytes (US 6,694,045, Generation and verification of a digitized signature) for signing process with replayable "movie".
Compatible with standard signature pads and Pocket-PC, Windows and Palm operating systems.