Verifiable International Voting Solutions
The use of commercial-off-the-shelf (COTS) hardware for election optimizes the use of resources for developing countries. The same computers, printers and document imaging scanners can be re-configured for use in education and other purposes. Using COTS hardware also eliminates the problem of election hardware becoming obsolete.
The following is a representation of the use of COTS hardware to achieve accessibility for voters with physical disabilities and visual impairments. They are configured to use with minimal training for use anywhere in the world using all known written languages.
The following is a representation of the process that allows the voters to preview how their marked ballots will be read by the optical scan system. In USA, voters are allowed to do-over with replacement ballots if they find mistakes such as having over-voted or under-voted on contests. It is equally effective if voters only use the review function to confirm what they did and correct any errors they discover on the same ballots. The system can also be configured to allow direct casting of their ballots after finishing reviewing.
The following is the basic workflow of the AVANTE patented verifiable paper ballot voting system:

Verifiable and Auditable Paper Ballot Optical Scan OMR Voting Systems
Ballot Marking Device for Accessibility, Central-Count and Precinct Count Voting System Using Commercial-off-the-Shelf Technologies: With Digital Image and Scalable Quantitative Pixel-Counting Ballot Tabulation System
(US Patents: 7,635,088; 7,635,087; 7,614,553; 6,892,944; 7,036,730; 7,077,313; 7,422,150; 7,431,209; 6,973,581; 7,197,167; and pending patents: 11/709,449; and others)
In 2008, AVANTE congratulates the commissioners and staff of COMELEC for their successful implementation of the first automated ballot counting and consolidation, and the peaceful election that used OMR automatic ballot counting solution for five out of six provinces for the August 11, 2008 election in the Autonomous Region in Muslim Mindanao (ARMM) of the Philippines. The system successfully counted more than one million ballots with 100% accuracy and delivered the results in record time.
"We have set a few firsts in the recent elections," Melo (Chairman of COMELEC) said. "The Comelec is slowly but surely shedding off its old image." ( http://www.abs-cbnnews.com/storypage.aspx?StoryId=128184). Highlights include:
"The first fraud-free (ballot-counting) election in more than half a century;
The first use of electronic voting and transmission of machines in a Philippine electoral exercise;
The first time the ballot printing process was broadcast live over the Internet;"
"In addition to the electoral process achievements, the voting solution deployed in the Philippines represents the highest standard of election integrity and auditability in the world. The basic solution was certified for reliability by an Independent Testing Agent according to U.S. Voting Standard Guidelines and utilizes most of the innovations patented by AVANTE to solve all the potential issues of electronic voting," said Dr. Chung, CEO of AVANTE. The ballots utilized proprietary anti-copying and counterfeit ballot prevention functions and were digitally captured for auditability.
Benefits of the credible election are starting to emerge. "Speaker Prospero Nograles yesterday asked newly re-elected Autonomous Region in Muslim Mindanao Gov. Zaldy Ampatuan and other ARMM officials who won "clean and clear" in recent fully automated ARMM elections, to use their overwhelming mandate to bring a just and lasting peace in Mindanao."  (http://www.visayandailystar.com/2008/August/18/negor4.htm)
This first patented independently auditable paper ballot voting system provides unparalleled and proven accuracy while surpassing all common paper ballots due to their inherent susceptibility to pre-election and post-election tampering. Auditable paper ballots are ideal for use in United Nation (UN) or internationally sponsored elections and where auditable, verifiable and credible elections may mean peace or unrest.
The patented and proven verifiable election solutions with end-to-end auditability uses the best that technologies have to offer in eliminating the potential of counterfeit ballots, ballot stuffing and ballot tampering before and after the voting and counting.

The systems are configured with commercial-off-the-shelf (COTS) hardware of computers, printers, and document imaging scanners with flexibility to accommodate election and voting methods of:
The First Optical Scan Voting System to Achieve 0% Error Rate in 1.5 Million Votes
Authenticated paper ballots (using AVANTE patented randomly generated ballot identifiers) combined with auditing of digital ballot picture images (AVANTE patented technology) yields a highly cost effective voting solution for most countries. Coupled with the fact that AVANTE OPTICAL VOTE-TRAKKER® uses commercial-off-the-shelf document image scanners and has the ability to decipher marked ballots with zero errors in 1.5 million marks, the AVANTE optical scan voting system is the ideal election solution for international communities.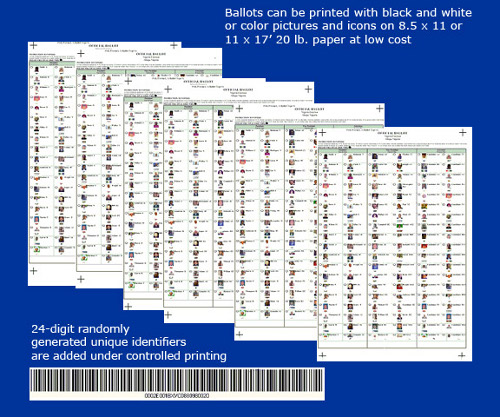 Receives the First 2002 NASED Certification Based on Federal Voting Standards!!
Voting systems funded by the "Help America Vote Act of 2002" (HAVA) can be upgraded to comply with the accuracy and secure voting system standards established by the Federal Election Commission (now under Election Assistance Commission, EAC). The AVANTE OPTICAL VOTE-TRAKKER™ system has received the first 2002 standard certification from NASED. The AVANTE DRE VOTE-TRAKKER™ with accessible voter verified paper audit trail has also completed all testing based on the same 2002 voting system standard and was awarded NASED number N-1-12-22-22-003.
Traditional paper ballots are scanned with "discrete sensor" technology much like the SAT tests taken by students. Paper fed in the right way and straight within the target reading line will be scanned and read correctly. According to a sobering review by Professor Doug Jones in testimony before the US House of Representatives' Committee on Science on May 22, 2001, the typical error rate is 1 in 6000 to more than 1 in 1000 from his own experience as a testing expert of various voting optical mark-sense systems. This is dramatically lower than the FEC requirements of 1 in 1,000,000 votes based on 1990 standard and the 1 in 1,500,000 votes based on the 2002 standard.
While the discrete sensor-based optical scan system readings are fine for testing students familiar with filling in bubble mark ovals or squares completely and correctly, many voters may not be familiar taking standardized tests using a sensor based optical scan system.  In the optical scan system, a stray or incomplete mark in a designated oval or square or the use of a pen rather than a pencil may invalidate a vote. The reading system simply may not "see" or register that there is a mark. There is no easy way to assess the voter's intent after the ballots have been scanned.
In a discrete-sensor voting system, ballots with inaccurately placed or insufficiently darkened marks will not be counted.  The only way to assess lighter markings is by manual inspection of the ballots.
Despite its drawbacks, the paper ballot is necessary to accommodate absentee voters and paper ballots are used by most states. However, paper ballots can sometimes result in errors from voters, counting and scanning technology.
AVANTE overcomes this paper balloting problem of voter intent with pixel-based document imaging technology. The OPTICAL VOTE-TRAKKER™ system exceeds the FEC 2002 standard of less than 1 error in 1,500,000 votes. With the use of pixel-based technology, instead of simply setting a threshold of light reflection in some discrete area, a full picture of the ballot is taken. All markings with different filled ballots pixel volumes are recorded. By evaluating the difference between ballots with 10% filled marks versus a pre-set standard of 50% filled, AVANTE's OPTICAL VOTE-TRAKKER™ system can find a voter's marked intent that may have been missed by a pre-set standard of acceptance.
Another important feature is that any ballot that contains either over-votes or under-votes can be printed out as a picture (ballot image) for manual deciphering and inspection. The counting machines do not have to stop whenever an over-voted or under-voted ballot is encountered.
Not relying on the paper alignment also means less errors. This also reduces the cost of using a "precision-cut" heavy bond paper. Instead, standard copy paper can be used. AVANTE's OPTICAL VOTE-TRAKKER™ uses fiducial markers to help distinguish paper orientation.  Using the fiducial markers, AVANTE's OPTICAL VOTE-TRAKKER™ system will self-align any ballots that are not fed correctly.
With the fiducial markers, OPTICAL VOTE-TRAKKER™ is also able to "scale" any paper shrinkage by moisture and handling. This function helps to reduce the need to use replacement ballots that must be filled in by the voting officials.
OPTICAL VOTE-TRAKKER™ incorporates a machine-readable unique and randomly generated ballot identifier to authenticate each and every ballot. No duplicate ballots will be read by the system. This unique feature eliminates both unintentional human errors and intentional tampering.
The randomly generated unique ballot-identifier not only preserves voter privacy but also allows the ballots to be faxed in by overseas voters. The ballots can be authenticated and special receiving terminals can be set-up to print out ballot images of the completed ballots. This technology has the potential to solve the problem of mailing in absentee ballots from citizens residing overseas and military voters.
AVANTE International Technology, Inc., located in Princeton, New Jersey is a new force in the voting industry. AVANTE pioneered the use of the voter verifiable paper audit trail (VVPAT) for touch-screen voting systems (VOTE-TRAKKER™) in March 2001. The VVPAT based voting system has since become a nationally accepted gold standard for a trustworthy electronic voting system. Besides paper balloting solutions, AVANTE also provides an integrated solution using "Ballot Marking Device" to provide accessible voting interfaces for voters with visual and physical disabilities.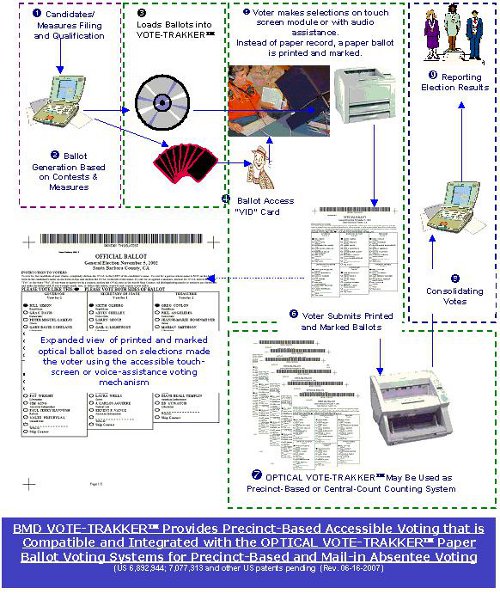 These patented solutions are developed and proven with the most stringent accuracy and integrity requirements in mind to accommodate the spectrum of complex elections in USA, South America, ASEAN, Africa and others as well as more common and simpler parliamentary and presidential elections in Canada, Europe, Africa and Asia.