Test Generation & Scoring

ACCURATE TEST GRADING SOLUTION WITH PIXEL COUNTING AND TEST SHEET SCALING FOR UNPARALLELED TEST SCORING ACCURACY
AVANTE has the only patented, proven test scoring technology and test grading solution capturing marked OMR-like forms with error rates of less than 1 in 1,5000,000 marks while using low cost equipment.
AVANTE pixel-based ballot scoring and tabulation technology is used in place of traditional discrete sensor and other less accurate OMR paper-based scanning and test scoring systems.
Marks made by students are documented with quantitative pixels rather than the standard "YES" or "NO" determination based on specific thresholds of standard discrete sensor systems.
Proven to capture marked ovals on questionnaires with less than 1 error in 1,500,000 marks.
Barcode is used for automatically capturing multiple page questionnaires coded with unique identifiers eliminating the need for proper stacking order or orientation.
Standard office paper is used in place of expensive "OMR" forms to reduce costs.
Security against tampering is increased with an optional unique and randomly generated test form identifier printed on each test form.
The best test grading system and solution starts with imaging tests to capture 100% of the data and answers as filled and marked.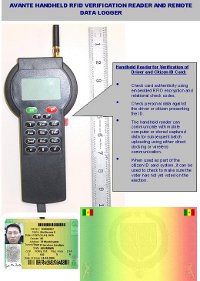 AVANTE Test Preparation, Scoring and Grading System and Solution
AVANTE Test Preparation, Test Grading and Test Scoring System and Solution are software applications derived from AVANTE's proven optical scan Election Management System. The table lists technological advancements with AVANTE solutions for scoring tests and tabulating surveys.
AUTOMATIC DATA CAPTURING AND ANSWER TABULATION FOR STANDARDIZED TESTS AND EXAMINATIONS (MULTIPLE PAGES)

REQUIREMENTS

TECHNOLOGIES AND/OR PROCESSES
COMMENTS
Fast and automatic data capture from standardized tests and examinations

More accurate and automatic data capturing technology of AVANTE patented pixel-imaging compared to OMR forms. Reduces the time requirement for data entry.
Takes less than 5 seconds for 5-page questionnaires.
Data is captured automatically and immediately after scanning.

Each questionnaire is uniquely identified with barcode.
Each page of multiple page documents is linked to a unique form identifier.
Fiducial marks for automatic page and form deciphering.

Multiple pages for any single test and examination (no limit to the number of questions per test)

AVANTE uses a barcode that is unique for each page of each form.
No specific order or stacking is required.
Capture form and page image.
Automatic deciphering of data immediately after scanning.
Automatic compilation of data to provide statistics.

Saves time and errors when many forms and pages are scanned.
Proven by independent lab and national election in US with less than one error in 1,500,000 marks.
US patented (US 6,892,944 and allowed US pending patent 10/410,824)

May be used to accurately capture data from customized tests and examinations

The speed of scanning and data capturing is as fast as 90 pages per minute.
It takes less than 3-5 seconds for a 5-page form with more than 1000 questions.

It is effective capturing a million individual examinations or tests.
Multiple systems may be linked to provide instant tallies of individual results and overall statistics.

Automatic compilation of individual test results and statistics based on specific tests or demographics.

AVANTE's proven system has been tested and certified by a US Independent Testing Authority for elections.
Compilation of tallies of each questionnaire has been proven for millions of forms.

Proven by independent lab and US election with less than one error in 1,500,000 marks (No error was recorded during the official testing for certification).

Ideal for small class rooms and large institutions

AVANTE OPTICAL scanning data capturing system is highly scalable to extend to national level questionnaires and surveys.
Examinations or tests may be individualized or standardized.
Standard office laser printers or commercial printers are equally effective.
Multiple printers and scanners may be networked to any scale.

Paper exams and tests may be printed locally using standard laser printers.
Each exam or test may be individualized for automatic posting of results.
Scanner can be for low cost 20 pages per minute applications or as fast as 90 pages per minute.
Some key characteristics AVANTE's Test Preparation and Test Scoring solution:
Uses Microsoft Windows-based applications which are easy to learn and use.
Tests are formatted in standard MS "Word" formats that can be printed using standard laser printers or for high volume, through outside professional printers.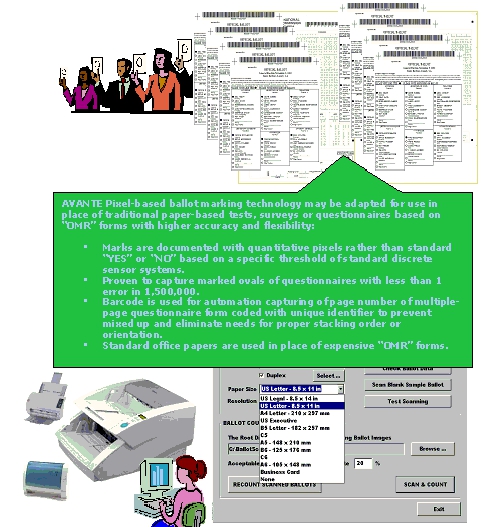 Key Capabilities of AVANTE Test Preparation & Test Scoring System:
Finished tests can be scored with standard document imaging scanners able to capture digital images with better than 200 dpi.
Tests can be printed on standard office paper or special form papers in standard US and European size formats.
Essays are automatically captured and displayed on screen for easier scoring and comments.
Along with standard multiple choice and ranked options, tests with essay responses are also available.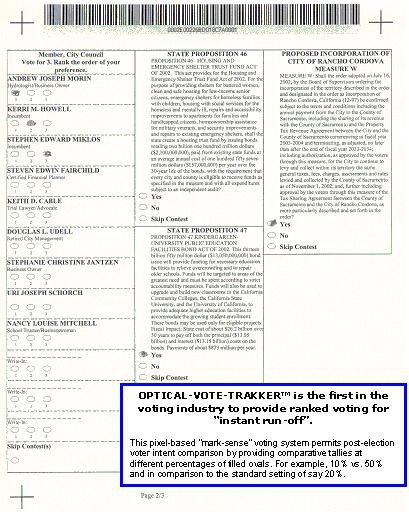 AVANTE Online & Onsite Registration System
Leveraging AVANTE's experience in registering voters, the company is able to offer a registration system for students with optional biometric data to authenticate beyond traditional paper registration rolls.
Below is a pictorial representation of the complete solution: