Survey Form Generation & Scoring

AVANTE's Survey Scoring System (e-SURVEY™) is engineered to be flexible in form generation to accurately caputre data from survey and data collection forms.  If a communication infrastructure is not available, statistical and individual data can be transmitted in real-time or stored in three redundant memories at each data capturing station using AVANTE's e-SURVEY application system.
The first system to achieve less than 1 error in 1.5 million marks during testing by an independent testing laboratory responsible for testing election equipment and ballots. The same error-free tabulation method is adapted for survey data capturing and tabulation.
The first system to allow automatic evaluation of light marks and smeared marks without having to manually retrieve or re-scan the test or survey forms.
The first system capable of scaling to accommodate paper size fluctuations due to moisture or  feeding alignment errors resulting in dramatically more efficient, flexible and resilient test scoring.
The best competitive solutions can boast 99.99% accuracy which is actually 100 times less accurate than the AVANTE solution.
Software based test scoring system and survey scoring solution uses commercial-off-the-shelf document imaging scanners from about $500 that scan 20 pages per minute, adequate for classroom use.
Higher volume systems scan over 100 pages per minute, appropriate for scoring SAT tests.
Most traditional systems use Optical Mark Recognition (OMR) or discrete sensor scanners that require specialized equipment costing at least 2-4 times more.
Flexible "Test Management Software Systems" for standardized or custom test preparation and scoring for a large country or a small school classroom with the same accuracy and "Survey Management Software Systems" to help large opinion polling agencies to prepare surveys and tabulate as needed.
Survey organizations and government agencies can prepare survey forms using one of the most flexible form generation software available and print on standard plain office paper using a standard laser printer.  Survey or test generation is similar to preparing a simple Word document.
Most traditional systems use Optical Mark Recognition (OMR) or discrete sensor scanners that require specialized equipment costing at least 2-4 times more.
Most traditional systems print tests and surveys on specialized paper forms which cost more than standard paper..
Pollsters can prepare and print their survey forms and census forms in-house on any paper stock or for high volume concerns send jobs to a professional printer.
All standard demographic data including addresses and names that often needs keying in are captured automatically.
One of the first system to provide digital images (pictures) of tests and surveys.
Written portions of the answers are displayed on a screen for comments and scoring.
The digital image also provides an electronic audit to enhance creditability of polls and surveys.
The images of the essay portion of public exams can be distributed to scorers with varied backgrounds.
Optical Character Recognition (OCR) and Intelligent Character Recognition (ICR) tools are used as needed for both type-written and manually written answer deciphering respectively
AVANTE's Survey Tabulation System (eSURVEY™) is the most accurate tabulation solution for data capturing from survey and data collection forms, provides auditable images and flexible custom survey form generation.
AVANTE's Survey Tabulation System provides easy survey formatting and generation and accurate data collection from survey forms.  The following are some of the highlights and benefits of eSURVEY™:
Ideal for tabulation of marked paper surveys, forms and questionnaires.
Each kiosk may be equipped for optically scanning 20-90 double-sided pages per minute (ppm).
Each kiosk is bundled with AVANTE patented (US 6,892,944, 7,077,313 and other pending patents) pixel-density deciphering software for automatic data decoding and capture (less than 1 error in 1,500,0000 marks).
Data may be transmitted online or stored locally and periodically transferred to a redundant web–based central database.
Below is a survey form used in one of the tradeshows that AVANTE helped manage: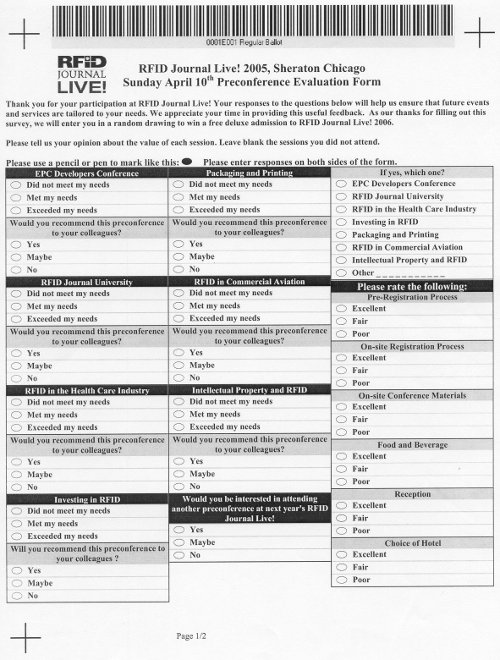 An illustration of the use of COTS document imaging scanner to capture survey forms and tabulate the results.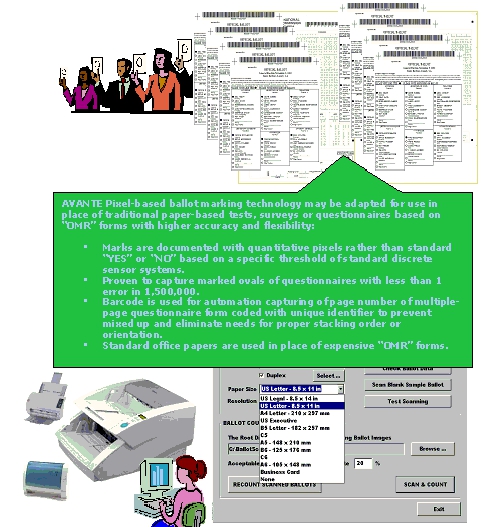 AVANTE's Survey Tabulation System is engineered to be flexible with software based applications that use standard commercial-off-the-shelf (COTS) document imaging scanners.
Multiple page questionnaires constructed by the user are printed with machine- readable barcodes encoded with unique form identifiers and page numbers (AVANTE patented innovation).
Responses are filled in by targeted groups (with staff assistance when required) by marking the ovals on the questionnaire.
Document image scanning uses AVANTE patented pixel-imaging technology to automatically convert analog data to digital data.
Each 5-page questionnaire takes approximately 3-5 seconds to capture and decode.
Every page is imaged and stored for future reference.
AUTOMATIC DATA CAPTURING AND TABULATION OF ANSWERS TO SURVEYS AND QUESTIONAIRES (MULTIPLE PAGES)

REQUIREMENTS

TECHNOLOGIES AND/OR PROCESSES
COMMENTS
Fast and automatic data capturing from customized surveys and questionnaires

More accurate automatic data capturing technology of AVANTE US patented pixel-imaging compared to OMR forms. Reduces the time requirement for data entry.
Takes less than 5 seconds for 5-page questionnaires.
Data is captured automatically and immediately after scanning.

Each questionnaire is uniquely identified with a barcode.
Each page of the multiple pages is linked to the unique form identifier.
Fiducial marks for automatic page and form deciphering.

Multiple pages for any survey or questionnaire (no limit to the number of questions per document)

AVANTE uses a barcode that is unique for each page of each form.
No specific order or stacking is required.
Capture form and page image.
Automatic deciphering of data immediately after scanning.
Automatic compilation of data to provide statistics.

Saves time and virtually eliminates errors when many forms and pages are scanned.
Proven by independent lab and national election in US with less than one error in 1,500,000 marks.
US patented (US 6,892,944 and allowed US pending patent 10/410,824)

May be used to accurately capture data from customized surveys and forms or questionnaires

The speed of scanning and data capturing is as fast as 90 pages per minute.
It takes less than 3-5 seconds to scan a 5-page form with more than 1000 questions.

It is effective capturing a million individual examinations or tests.
Multiple systems may be linked to provide instant tabulation of statistics.

Automatic compilation of individual test results and statistics based on specific tests or demographics.

AVANTE's proven system has been tested and certified by a US Independent Testing Authority for elections.
Compilation of tallies of  questionnaires have been proven for millions of forms.

Proven by independent lab and US election with less than one error in 1,500,000 marks (No error was recorded during the official testing for certification).

Ideal for small classes or large institutions

AVANTE OPTICAL scanning data capturing system is highly scalable to extend to national level questionnaires and surveys.
Examinations or tests may be individualized or standardized depending on the specific need.
Standard office laser printers or commercial printers are equally effective.
Multiple printers and scanners may be networked for any scale.

Paper surveys and questionnaires may be printed locally using standard laser printers.
Each survey and questionnaire may be individualized for automatic posting of results.
Scanner can be performed  for low cost at 20 pages per minute or as fast as 90 pages per minute.
The flexibility of the survey form generation can be illustrated by the following two examples that have been used successfully in similar applications: