Patented Scoring, Automatic Data Capturing and Tabulation Technology

ACCURATE TEST GRADING, SURVEY FORM DATA COLLECTION AND DATA CAPTURING SYSTEM AND CENSUS TABULATION SOLUTIONS
Traditional small scale tests, assessments, exams, surveys and census questionnaires are scored manually. It's too expensive to generate and print special "forms" that can be recognized by commercial optical scanners. When large scale surveys and tests are undertaken, forms are designed to fit special Optical Mark Recognition (OMR) requiring specific columns across a special form of paper. These paper tests or surveys must use a commercial printer at high expense. The OMR scanners are specialized and can only tally the forms with a custom program used to generate the questionnaire form.
The picture below is a screen shot of a digital image of a ballot to demonstrate how the AVANTE system tallys elections. Similar technology can be used for scoring tests. The captured digital images of tests allow for more freely distributed essay type questions for easier grading.  Distribution of digital test images also allows for easier peer review of previously scored exams.
When doing surveys, digital images may be posted for public review enhancing public confidence.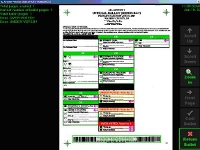 Below is a typical commercial-off-the-shelf cost effective document scanner for use in even the largest of public tests, assessments, surveys and polls tabulation solutions. A properly configured system with 10 of these units could tabulate over 1,000,000 double-sided tests or survey forms in less than 24 hours.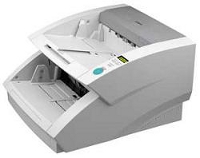 TYPICAL COTS SCANNER
Daily Duty Cycle: 10,000 pages
Grayscale: Yes
Feed Capacity: 500 Sheets
Document Size – Width: 2.2in – 12in
Document Size – Length: 2.8in – 17in
Thickness – auto feeding: 14 – 32 lb
Scanning Resolution 200: Yes
Scan Speed Duplex 200 dpi: 150 ipm
Long Document Scanning: 39.4in
Recommended Connection: SCSI
Scanner Drivers: ISIS, TWAIN
AUTOMATIC ACCURATE DATA CAPTURING AND TABULATION OF ANSWERS FOR TEST GRADING & SURVEY DATA CAPTURING WITH STANDARDIZED OR CUSTOMIZED TEST FORMS, SURVEY DATA COLLECTION FORMS AND CENSUS QUESTIONNAIRES
(US 6,892,944; 7,077,313; 7,614,553 and other AVANTE pending patents incorporating imaging, scaling and pixel counting optical scan solutions)
AVANTE couples the accurate data capturing technology from test and survey forms and questionnaires for use as an accurate test grading solution and assessment tabulation system. These data collection and data capturing software solutions incorporate a flexible form generation software and solution to provide the most advanced e-TEST and e-SURVEY systems since the first use of OMR technologies. The patented scaling of paper shrinkage or expansion and the quantitative pixel counting enable direct and automatic accurate data capturing of addresses, names and other demographic data that may otherwise require keying in manually. The total automatic data capturing, deciphering and tabulation of survey and census form information dramatically reduces costs in large scale survey applications such as a national census.
The 2006 SAT test scoring and grading errors by the tabulation company engaged by the College Board highlights the need for upgrading current scanning technology. The test assessment and grading errors were attributed to moisture induced paper expansion and the inability to resolve lightly marked "bubble marks".
The inability to resolve lightly marked "bubble marks" and errors due to paper expansion or shrinkage is a chronic industry problem. Combined with paper alignment errors, approximately 1.5% of the SAT tests were tallied incorrectly. The largest scoring and grading error rate was 450 points or 19% on a test of 2400 points or 25% for a 1600 point test.
Mostly unknown to the public, similar grading and assessment error rates appear in tallies of votes in US elections when paper ballots are used. The Federal Voting System Standards of 2002 specifically mandates voting systems to have less than 1 error in 1.5 million marks when the paper ballot is marked correctly (i.e. properly filled "bubble marks"). Systems using discrete sensor/OMR technology struggle to meet such requirements.
AVANTE International Technology's test and survey scoring solution spins off from its EAC certified system for tallying voting ballots using pixel count and document imaging technology. AVANTE Optical VOTE-TRAKKER™ was the first to pass and exceed federal testing with 0 errors in 1,500,000 marks. The same technology can be used for scoring tests, tabulating surveys and questionnaires.
The discrete Optical Mark Recognition (OMR) sensor technology relies on completed documents passing through the scanner "exactly" straight. The width marking positions must line up "correctly" and timing must be exact for reading the length of the paper. With the use of advanced document imaging technology, AVANTE uses fiducial markings to scale for paper orientation and expansion/shrinkage variations. The quantitative use of counting pixels in each "bubble mark" also provides automatic self-checking for possible light marks, smears or errors. The following table is a summary of the differences between traditional discrete sensor OMRs and AVANTE's imaging with quantitative pixel counting technology.
AUTOMATIC DATA CAPTURING AND TABULATION SOLUTION USING AVANTE's PATENTED PIXEL-COUNTING AND FORM SCALING DOCUMENT IMAGING SYSTEM

REQUIREMENTS

TECHNOLOGIES AND/OR PROCESSES

COMMENTS

Fast and automatic data capture from customized surveys and questionnaires

More accurate automatic data capturing using patented pixel-imaging equivalent to that of the OMR. Data entry time is reduced.
Takes less than 5 seconds for 5-page questionnaires.
Data is captured automatically and immediately after scanning.

Each questionnaire is uniquely identified with barcodes.
Each multiple page is linked to a unique form identifier.
Fiduciary marks for automatic page and form deciphering.

Multiple pages for any single survey or questionnaire (no limit to the number of questions per survey set)

AVANTE uses a unique barcode for each page of each form.
No specific order or stacking is required.
Captures form and page image.
Automatic deciphering of data immediately after scanning.
Automatic compilation of data to provide statistics.

Saves time and reduces errors when many forms and pages are scanned.
Proven by independent labs and United States elections to have less than one error in 1,500,000 marks.
US patent (US 6,892,944 and allowed US pending patent 10/410,824)

May be used to accurately capture data from customized surveys and forms or questionnaires

The speed of scanning and thus data capture is as fast as 90 pages per minute.
It takes less than 3-5 seconds for a 5-page form with more than 1000 questions.

Effective capturing millions of surveys and questionnaire forms.
Multiple systems may be linked to provide instant tabulation of statistics.

Automatic compilation to provide results and statistics based on specific questions, demographics and other parameters

AVANTE's proven system has been tested and certified by a US Independent Testing Authority for use in elections.
Compilation of tallies of each questionnaire has been proven for millions of forms.

Proven by independent lab and national elections in the US with less than one error in 1,500,000 marks (no error was recorded during the official testing for certification).

Ideal for small and large institutions

AVANTE OPTICAL scanning data capturing system is scalable for large surveys and questionnaires.
Examinations or tests may be individualized or standardized.
Standard office laser or commercial printers are equally effective.
Multiple printers and scanners may be networked and scaled to the application.

Paper surveys and questionnaires may be printed locally using standard laser printers.
Each survey and questionnaire may be individualized for automatic results posting.
Scanner can range from 20 pages per minute applications to as fast as 90 pages per minute.
AVANTE further couples the accurate data capturing and tabulation system with a flexible form generation software and solution that enables direct and automatic data capture of addresses, names and other demographic data that may otherwise require keying in manually. The total automatic data capturing, deciphering and tabulation of survey and census form information dramatically reduces costs in large scale applications such as a national census.