AVANTE Intermodal Container Security System Includes the Critical Access Control and Visibility of all Staff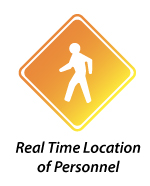 Incorporating AVANTE's "Personnel and Assets Visibility System" (PAVS) ZONER™ RFID badge-tag provides synergy to your supply-chain security
End-to-end direct association of personnel involved in the supply chain management from stuffing the box, driving the container to the seaport, pre-loading inspection and loading of the box, any in-transit opening of the container, inspection of cargo upon arriving at the receiving end and inland transit from seaport to the importers.
The RELAYER™ RFID reader keeps track of personnel carrying ZONER™ RFID badge-tags that can be used as security access cards.
If the driver has left the container for any extended period of time during inland transit such information is handled immediately.
Any opening of the container without the presence of authorized personnel with appropriate ZONER™ RFID badge-tag is reported immediately.