Intrusion & Tampering Reporting
Intrusion and Tampering Detection and Reporting in Real-Time is A Critical Component of AVANTE Container Transport Security System and Services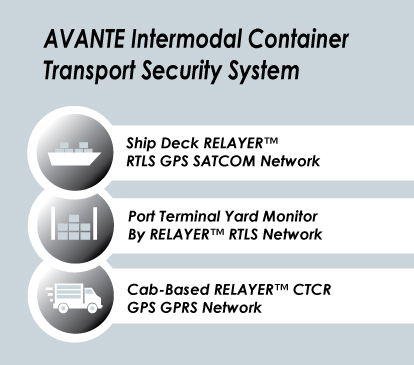 AVANTE Intermodal Container and Cargo Transport Security System differs from other existing solutions in several critical aspects:
Real-time intrusion detection and tampering from any surface of the container in addition to the front door.
AVANTE's patented "smart container" and container security device (CSD) technologies incorporate direct communication of embedded RFID ZONER™-CTID tags deep inside the container to the outside monitoring RFID RELAYER™-CTOR reader. This design eliminates the tampering with or removal of a security device as often occurs with electronic door seals and gasket sensors.
AVANTE CSD is the only system that uses redundant tags and sensors to minimize false positives and resolve false negatives to achieve higher than 99% accuracy.
AVANTE CSD is the only system that uses relative received signal strengths and sensor data over a period of time rather than absolute "Yes" or "No" data for tampering and intrusion detection and thus detects even the most sophisticated insider or outsider attempts.
AVANTE CSD uses a special assembly of sensors to provide shock and temperature monitoring in protection of goods. Light, sound and other proprietary sensors provide additional confirmation and detection of tampering and presence of contraband.
AVANTE associates transportation workers and aspects of the supply chain process from box stuffing, loading, movement to transport and delivery.
AVANTE solution is the first to incorporate this approach to protect the goods being shipped.
This AVANTE approach ensures accountability of proper goods being handled properly by proper people.
The RFID ZONER™-SSID badges provide real-time "call for assistance" protection to transportation workers in case of emergency or danger.
Association of equipment and carrier involved in lifting and transporting the box and contents.
A fixed site or ad hoc network of AVANTE RFID RELAYER™-RTLS can be installed in hours in ports, terminals and yards. The use of received signal strength for real-time locating system rather than traditional methods ensures cost effectiveness for large or small facilities.
Equipment associations help to provide real-time visibility of movements and other actions of the container and cargo.
End-to-end visibility of the container and cargo being shipped.
AVANTE end-to-end monitoring and tracking of container and cargo shipment using active or passive RFID is a patented innovation.
AVANTE advocates only end-to-end visibility of the supply chain to provide security for both shippers that bear the burden of costs and of receiving jurisdictions that bear the burden of ensuring the safety of citizens against weapons of mass destruction.
Real-time reporting of intrusions and other exceptions during all phases of the transportation process.
Discovery of intrusion or tampering at choke points is much too late.
Choke point discovery of tampering at departure port does not necessarily help shippers recover damaged or stolen highly valuable shipment.
Choke point discovery of tampering at port arrival cannot help in mitigating danger from "weapons of mass destruction".
AVANTE solution provides for end-to-end tracking and monitoring of containersand cargo and real-time reporting of exceptions to prevent loss for the shippers and potential dangers to the receiving jurisdictions.
The second-to-second communication between redundant RFID ZONER™-CTID embedded inside the container and RELAYER-CTOR located outside the container box is the key in providing real-time reporting of any intrusions and exceptions.
AVANTE solution provides shippers the end-to-end visibility of not just the location of their containers and cargoes anytime over its web-based services, but also the conditions of their products.  Monitored conditions include temperature and shock that exceeds acceptable conditions that may cause product damages as well as unauthorized tampering.  The AVANTE solution is "profit centered" rather than "cost centered" for shippers of high value products.
AVANTE Container Transport Security System and Services
AVANTE provides web-based 24/7 end-to-end tracking services using its RFID ZONER™-RELAYER™ container security devices, carrier-based and yard based fixed site communication links, and association of personnel badges to provide cargo container visibility and security management.
Leasing a set of SMART-TRAKKERS™ consists of:
One set of RFID ZONER™-RELAYER™ container security devices (two ZONER™-CTID tags and one RELAYER™-CTOR)
Three personnel ZONER™-SSID badges
One carrier-based communicator of RELAYER™-CTCR (equipped with GPS, GPRS and SATCOM).
Optional fixed site installation of networks of nodal and real-time locating system of RELAYER™-RTLS readers along the supply chain.
Flexible service charges based on scheduled regular reporting and real-time exception reporting. This cost effective supply chain security system and visibility solution does not require capital investment. Return of investment (ROI) in using this patented transport security system is immediate and can be tailored to your specific requirements.