AVANTE CONTAINER TRANSPORT SECURITY: One part of the Avante Total Supply-Chain Security Solution
The AVANTE container security management solution effectively detects the slightest opening of a container within seconds. This basic technology developed in 2005 has since improved with a quantitative measurement of RSSI every 2 seconds.
Intrusion detection is futile unless the system can report the potential dangers to an authority.
A grid or network of RELAYER™ RFID monitors communicate with the RELAYER™ RFID reader on the containers in real-time whenever any tampering by intrusion or exceptions that are important to business practices such as temperature excursions beyond the allowed range, etc are detected.
These grids or networks of RELAYER™ RFID monitors can be installed in seaports, container yards, and onboard ship decks. These low cost monitoring networks are easlly installed in any infrastructure.
When the containers are in transit on land, additional security against theft and other tampering is achieved via the integrated use of a cellular and/or satellite communication module. The patents pending application also incorporate the monitoring of RFID personnel badges of staff and drivers that work on the containers during its stuffing, unloading or transit.
AVANTE's RFID ZONER™-RELAYER™ technology is the first intermodal container security solution that can monitor intrusion from any one of the six container surfaces. This long-awaited intermodal container security management solution provides both tool and system level management based on patented RFID applications. This enhances intermodal container security management and resolves all of the known inadequacies that have prevented such critical security from being implemented: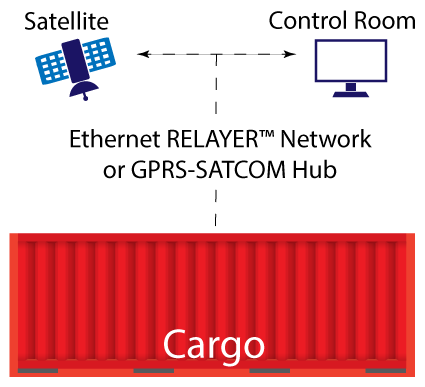 RFID ZONER™ tags are in constant communication with the RELAYER™ reader located on the outside of the intermodal container to provide positive proof that the container security device is indeed associated with the intended container.
Multiple changes in signal strength of the communication packets over a period of several seconds are used to determine if an actual intrusion has occurred rather than shock and vibration during normal intermodal container transport. RFID signal strength changes have been proven to be effective detecting even small cut holes on any of the intermodal container surfaces. Additional sensor data such as shock, sound and light measurements are used as ancillary evidence for real intrusion. The intelligent design and diverse data collection of the AVANTE RFID ZONER™-RELAYER™ system eliminates common common false positives.
The locating of the RELAYER™ reader outside of each intermodal container that are programmed to communicate with either fixed site or ad hoc RELAYER™ monitors communicate with readers on containers for real-time reporting of intrusion and exceptions. In case of transport over truck and rail, each of these transport carriers when equipped with RELAYER™ monitors that are embedded with GPS/Cellular and/or Satellite communication modules provide real-time reporting capability.
RFID ZONER™ tags are low profile and are equipped with magnetic holders to allow easy attachment inside the "ridges" inside the container in seconds.
RELAYER™ reader is also low profile with inside antenna equipped with magnetic holders to be placed on the outside "ridges" of the container in seconds.
Both ZONER™ tags and RELAYER™ readers are equipped with Lithium battery packs for continuous operation of five years. They are maintenance free and NEMA level sealed from moisture and tampering.