Avante's Container Security Incorporates Inland Transit Management
Inland Transit Security Issues
Security concerns may arise during land transportation between container ports and other hubs. End-to-end visibility and monitoring of these containers starts with designing a solution that answers the following questions:
Who transported the products?
Who are the drivers? Any stop over or other routing issues?
How long is each stop over?
How long was the driver away from the container?
Was the container opened during transit?
Who was present during the time when the box was open?
INLAND TRANSIT MONITORING: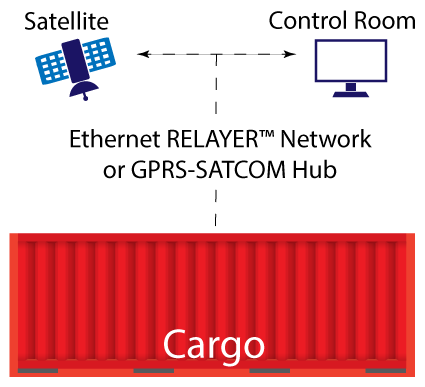 Each container is equipped with an AVANTE active RFID RELAYER™ reader attached near the front door of the container and two active RFID ZONER™ tags inside the container.

Each RELAYER™ reader device can be connected to an optional cellular and/or satellite phone system communication module.
Drivers and other staff are required to wear a personal ZONER™ badge tag to provide full visibility of their actions.

Each ZONER™ tag has embedded temperature or other sensors to detect intrusion and tampering.

Additional chemical, biological or radioactive sensors may be integrated with onboard I/O of each ZONER™ tag.

The RELAYER™ reader attached to the container is in constant communication with the ZONER tags to note temperature deviations and changes in signal strengths from inside the container.

Data from any other integrated sensors will also be noted.

Exception data such as unauthorized door openings and extreme temperature excursions are recorded to onboard memory.
The same exception data may be communicated to a central monitoring station in real-time with an optional onboard cellular and/or satellite communication module.

A third party "Public Independent Monitoring Agency" (PIMA) is recommended for monitoring and issuing the systems.