Supply-Chain Logistics/Security Monitoring covers All Phases of Land and Sea Cargo Intrusion Detection
International In-Transit Container Security Issues: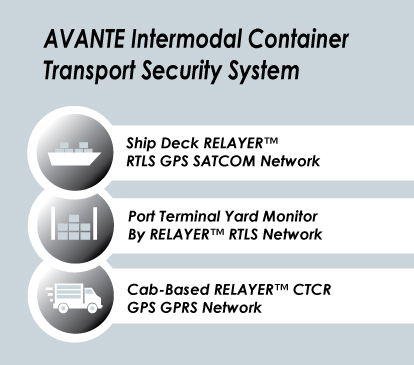 Any unauthorized access to containers during transhipment?
Any tampering during transit?
Stop Over Container Security Issues:
Any unauthorized access to containers?
Any tampering?
AVANTE's Container Security Management Solution:
Install RELAYER™ monitoring network and other infrastructure to cover all ship deck storage areas.
Install seal monitoring "GREEN BOX™" with appropriate communication device.
Report quiescent signals from all AVANTE ZONER™ devices placed inside every container and status of external RELAYER™ network.
Real-time and automatic reporting of any unauthorized access or container tampering (by monitoring appropriate differential signal strength levels of ZONER™ devices when containers are opened or closed) to destination custom and port authorities.
Ocean Transit Monitoring
AVANTE provides web-based 24/7 end-to-end tracking services of cargo using its RFID ZONER™-RELAYER™ container security devices, carrier-based and yard based fixed site communication links, and association of personnel badges to provide cargo container visibility and security management: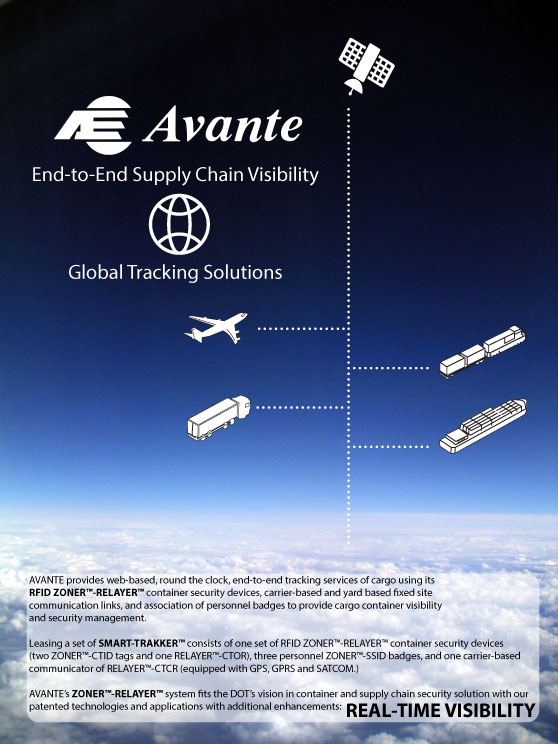 Leasing a set of SMART-TRAKKER™ consists of one set of RFID ZONER™-RELAYER™ container security devices (two ZONER™-CTID tags and one RELAYER™-CTOR), three personnel ZONER™-SSID badges, and one carrier-based communicator of RELAYER™-CTCR (equipped with GPS, GPRS and SATCOM).
Optional fixed site installation of networks of nodal and real-time locating system of RELAYER™-RTLS readers along the supply chain.
Flexible service charges based on scheduled regular reporting and real-time exception reporting. This cost effective supply chain security system and visibility solution does not require capital investment. Return of investment (ROI) in using this patented transport security system is immediate and can be tailored to your specific requirements.
Real-Time Intrusion Capability Must Include Onboard Monitoring of Ships During Transit:
Any container door opening with or without authorization, intrusion (cutting) into any of the six surfaces of the container, or other happenings are recorded by the RELAYER™ reader located outside the container in communication with the two or three ZONER™ tags inside the container.
The container RELAYER™ reader reports in real-time to the fixed site network of 6-10 RELAYER™ monitors installed onboard the ship. The data from the network is directly communicated through the "GREEN BOX" via satellite to the monitoring agency and the responsible custom authorities.
Onboard monitoring infrastructure with a third party data center service provider achieves needed visibility of containers during transit:
100%, 24/7 real-time monitoring and reporting of all access to containers after sealing from the departing port.
All status and exception reports are made independently of the onboard operational staff.
Exception and tampering reports are made in real-time. Normal status reports are made periodically as scheduled.
AVANTE container ZONER™-RELAYER™ system includes self-diagnostic, system event, and periodic reporting.
Real-time video feed triggered by tampering is optional at minimal additional cost.
All systems have built-in redundancy to prevent false tamper reporting.
End-to-end container visibility provides security equivalent to 100% inspection of all containers.
Exception and tampering reports are made in accordance with the following harm-benefit protocol:
Tampering reports are first sent to the destination port and custom authorities.
Tampering reports are also sent to the Public Independent Monitoring Agency (PIMA) as the information clearing- house.
The destination authorities will manage any exception events and determine the communications to the departing authorities and onboard security staff. No direct reporting will be made to either the onboard or departing authorities without authorization from the destination authorities or others by mutual agreement.