Cargo/Intermodal/Rail Car Tracking System: Real-time, End-to-End Supply Chain Security
AVANTE container transport tracking provides end-to-end real-time, intermodal and rail car/cargo access and intrusion alerts using patented active RFID ZONER™-RELAYER™ security technologies: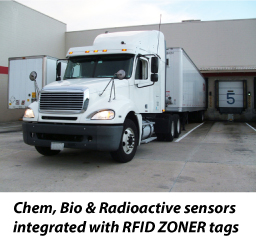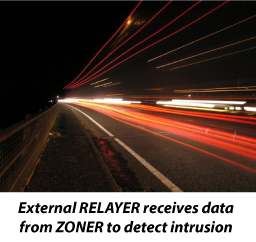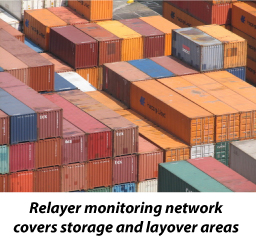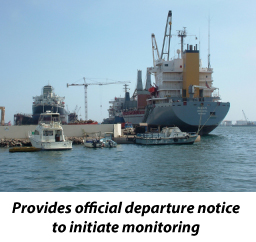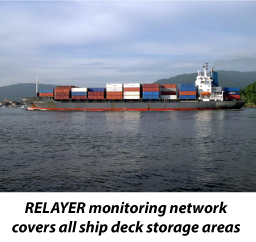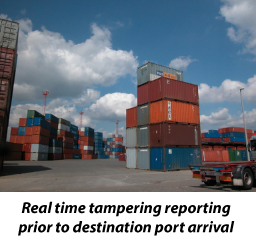 Product Features: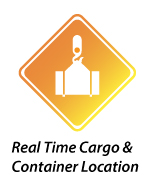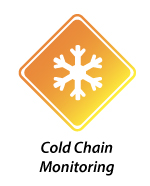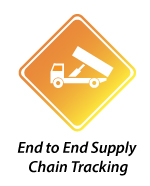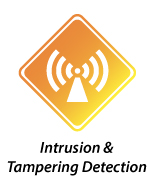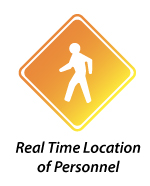 Real-time container intrusion and tampering detection based on AVANTE patented RSSI differential and multi-mode sensors from ZONER™-CTID tags placed inside the container received by RELAYER™-CTOR readers attached outside of the container when any opening of the intermodal container on any of the six surfaces is created. Additional container security seal using optical continuity is available for container and trailer door intrusion tracking.
Transportation workers and staff are equipped with ZONER™-SSID badges that include a "transportation worker identification card" (TWIC), compatible passive card (ISO 14443), and an active ZONER™ component, beaconing every second to provide real-time location and proximity to the container for personnel safety and container security. In case of emergency, the driver and staff can press on the panic button to call for assistance.
Carriers including trucks, rail trains, aircrafts, and vessels include a monitoring RELAYER™-CTCR that has an embedded GPS, GPRS and SATCOM to provide real-time locating of container and cargo. Unauthorized intrusion into a container and exceptions such as temperature excursions beyond normal ranges, excessive mechanical shock, absence of driver, etc., are reported in real-time.
Driver and/or staff ZONER™-SSID badges are equipped with a "panic" button to call for help in real-time.
A cost-effective real-time locating system (RTLS) based on received signal strength indicators (RSSI) from active RFID ZONER™ tags and badges received by a network of active RFID RELAYER™ readers can be installed quickly and in mobile settings. The RELAYER™-RTLS reader-monitor network is installed in ports, terminals, and yards to provide real-time visibility during temporary storage or while in transit. The same network is installed onboard vessels requiring real-time visibility.
Containers and/or pallets or boxes of high value can use a RELAYER™-CTOR that is embedded with GPS-GPRS-SATCOM to provide independent real-time reporting status during scheduled times and exceptions or tampering information in real-time.
AVANTE systems will help you CUT COSTS:
DOT'S Vision on Potential Benefits of Intelligent Freight Technologies

Direct Benefits to Private Firms

Increased efficiency and productivity, often thought of as cost reduction benefits
Improved reliability and service quality, usually thought of as tools to retain good customers and grow market share and revenue
Improved shipment and container integrity, built around a core of security issues

Direct Public Sector Benefits

More efficient and effective government operations
Greater national security
Improved safety
Reduced environmental effects of freight transport
Reduced congestion and expanded capacity for transportation infrastructure

Indirect Freight Network Benefits

Economies of scale and decreasing unit cost of network expansion
Exponential increase in total benefits as costs drop and usage grows
Derivative productivity benefits in industries that depend on freight transportation
AVANTE's ECTS provides real-time reporting capability
Our system is superior to nodal or choke-point visibility. The active RFID ZONER™-RELAYER™ technologies using RSSI and embedded temperature, shock, sound, and light sensors are a true "container security device" that can detect all known intrusions and tampering with practically no false positives.
Container Security and Supply Chain Security Challenges in Cargo Tracking Solution
Challenges
Solutions
Impossible to inspect all of the containers. Not possible to check even 10%.

Incorporate an automatic real-time locating and monitoring system for every container.
Track and trace every container through the process of stuffing, loading, transit, rerouting, and disposition.
Place an active tag on the outside of the container or incorporate it as part of the outside container seal.
Maintain real-time visibility and monitoring for containers and supply chain security including any tampering after sealing.

Detecting tampering during transit. Preventing loss before arrival at the unloading port.

Place one or more RFID "ZONER™" devices inside the container upon sealing. An outside monitoring "RELAYER™" reader may be used to communicate with the inside "ZONER™" devices. This may be optionally integrated with chemical, biological, radioactive, light, impact, temperature, pressure, humidity, and other sensors.
Monitor any change of RFID signals from inside the containers associated with the opening of the container with an onboard fixed site network of RELAYER™ reader-monitors.
Real-time reporting of any exception and incident of container security violation to destination custom and port authorities for remedial action before arrival.

Determination if any content may contain weapons of mass destruction (WMD)

Place one or more RFID "ZONER™" devices integrated with radioactive, chemical, and biological sensors inside the container upon sealing from the shipping agent.
Use synchronized "RELAYER™" reader-monitor with date-time clock to monitor any tampering during transit.
AVANTE RFID ZONER™, ZONER™ with sensors, and RELAYER™ network technological solution solves the last three of four core elements of the "Container Security Initiative (CSI)":

Using intelligence and automated information to identify and target high-risks containers;
Pre-screening those containers identified as high-risk at the port of departure, before they arrive at U.S. ports;
Using detection technology to quickly pre-screen high-risk containers; and
Using smarter, tamper evident containers.
AVANTE is the first to develop an RFID security solution that monitors intrusion from any one of the six container surfaces not only door openings but also cut holes as small as a few square inches.
Common false positives due to drop shock and vibrations during transport will be reduced to less than 0.1% or eliminated completely.
With addition of 6-10 RELAYER™ monitors along the perimeters of a ship deck and a grid of monitors spaced 100 meters apart in a container port and yard, and using the dynamic zoning from the received signal strengths, real-time locating of a container and any security breaches is possible.  This data is transmitted within seconds of an event happening anywhere along the transport route.
Simple to Install:
ZONER™ tags and RELAYER™ reader-monitors are equipped with a magnetic holder to facilitate place-and-play without special tools and fixtures.

For more information and illustrations of AVANTE's ECTS System please see the following brochures:
The Cargo Tracking Solution has been tested and verified by the EPA EVT program.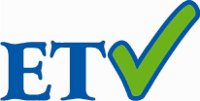 The U.S. EPA Environmental Technology Verification Program (ETV)  www.epa.gov/etv