RSSI Real-Time Locating System
Received signal strength indicator (RSSI) received by a single reader from the emitting source by itself is not accurate enough to achieve high accuracy.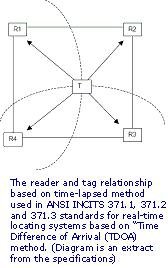 AVANTE has incorporated the dynamic zoning principle from RELAYER™ readers forming a grid of known distance to provide the real-time locating solution.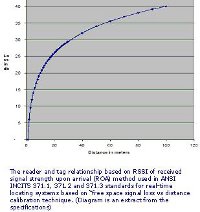 Traditional time-lapsed method suffers from the multiple paths problem in a crowded indoor space.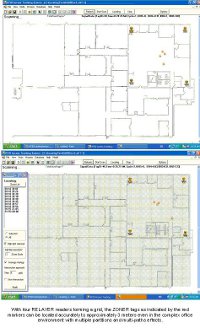 (View video on AVANTE Real- Time Personnel and Asset Visibility Solution)
For more information on other applications:
AVANTE REAL-TIME LOCATING SYSTEM WITH ZONER™-RELAYER™ ACTIVE RFID WITH DYNAMIC ZONING READ RANGES
AVANTE Real-Time Locating System (RTLS) is a patented (US 7,319,397; 7,342,497; 7,423,535)and patent-pending innovation that complements the AVANTE PAVS to provide real-time visibility in much more detail than possible using nodal choke point data.
In RTLS application, each ZONER™ RFID personnel badge is requested to transmit its ID at the highest power signal strength analog to the sound levels of replying to a call.  Using the data of the signal strength received at each of the monitoring RELAYER readers to form a grid of known distance, the location of a tagged vehicle can be located with 1-3 meters.
A grid network of RELAYER™ reader-monitors located at specific locations will report the zoning data for the application to calculate the physical position to within 1 meter. Using the AVANTE patented "dynamic zoning" technology, the use of received signal strength ratio allows unparalleled accuracy without requiring direct line-of-sight to avoid multipath issues.
For personnel visibility applications where privacy of the individuals must be observed, the request can either be initiated by the badge owner or system administrator in safety and other emergency situations.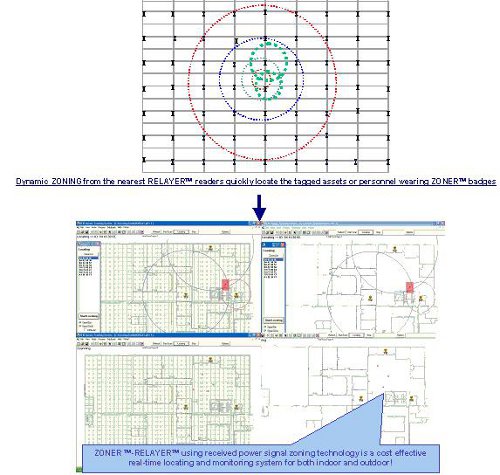 (View video on AVANTE Real- Time Asset Tracking System and Solution)
Besides being IP-based with Ethernet communications, each of the AVANTE RELAYER readers also provides RS 232 and RS485 interfaces for ease of application. The availability of a Wiegand interface and RFID access control readers from AVANTE allows ease of integration with existing electronic access control systems.