Data Center Personnel and Asset Visibility System
AVANTE Nodal and RTLS Personnel and Asset Visibility System for Data Center Management (Starts April 5, 2008)
SYSTEM CONFIGURATION:
Free 60-Day Trial Configuration
ZONER™-ASID (Asset Tag and Temperature Monitor): 30 ASID
RELAYER™-RTLS (For Forming a Real-Time Locating System): 4 RELAYER-RTLS
ACCESS-TRAKKER® SOFTWARE
INSTALLATION AND VERIFICATION
ZONER™-GPID (Optional for General Personnel Badge): 10 GPID
ZONER™-SSID (Optional for Visitors and Security Personnel Badge): 10 SSID
RELAYER™-Nodal (Optional to provide real-time visibility of "IN-OUT" status by monitoring all access points): 4 RELAYER-Nodal (Access Points)
VIEW VIDEO ON AVANTE PERSONNEL & ASSET VISIBILITY SOLUTION
Ideal for:
The system and communications are IP-based and robust with build-in redundancy:
The RTLS is IP-based and data can be monitored from anywhere and anytime.
Communications of exceptions are normally fed directly and synchronized with other security systems but they also report independently whenever there is exception.
Monitoring software uses .NET web-based framework to provide seamless and easy integration and communication via web services with legacy other security systems.
Additional safety feature of on-demand real-time reporting switch is a common feature on all personnel RFID ZONER™ badges in case of emergency and in need additional help.
The system works 24/7/365 independent of other security systems.  The RFID ZONER™ tags and badges with batteries last at least 5 years.
AVANTE also provides backup monitoring data center services for redundancy and archives data for customers needing such information.
Data Center Operational Compliance Management Via Real-Time RFID Asset Tracking
Secure and efficient operation of data center is critical for companies and institutions. With data integrity, legal and industry compliance requirements becoming more critical, the ability to document critical server and SAN components is becoming more important than ever. Security and effective data center management starts from visibility of IT assets by real-time tracking and monitoring of servers, SAN tapes and disks, and critical IT components.
How can AVANTE RFID Real-Time Locating System and Personnel-Asset Visibility System benefit assets tracking within a Data Center?
Real-time tracking and monitoring of all data center assets including server blades, SAN tapes and disks and other critical IT assets.
Documented compliance of data and system security down to each individual component
Detailed control on leased and owned assets
Dramatically reduces manual tracking processes and misplaced assets
Ability to associate document assets and staff relationships from the arrival at dock to disposure
Temperature at each server blade is reported in real-time along with its position to give a real-time map of temperature distribution and profile of the data center for pro-active service before systems fall in trouble.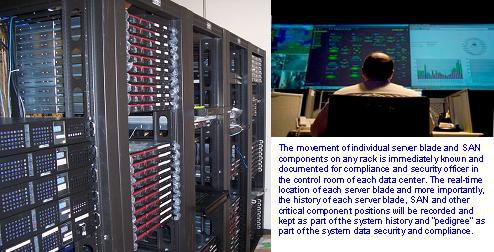 VIEW VIDEO ON AVANTE PERSONNEL & ASSET VISIBILITY SOLUTION
The principle and utility of this patented RFID RTLS asset tracking technology is simple to use and understand:
A miniature and low profile RFID ZONER™ tag with temperature and motion sensors are attached directly with tamper-destructive adhesive or seal onto each server or IT asset to be monitored.
Authorized staff and security personnel are encouraged to wear the RFID ZONER™ badges.
Each RFID ZONER™ tag transmits and communicates to the monitoring RTLS.
A grid of real-time locating RFID RELAYER™ readers is installed around the perimeter of the area to be protected.
Exceptions rules based on movement, position, temperature, and who among the authorized personnel is around are used to provide exception reporting in real-time. All data collected may be viewed in synchronization with the IP-video or other CCTV monitoring systems.
The system provides an alert and alarm well before the system exceeds a safe operating temperature or is removed without authorization.
The RFID ZONER™ tag and RELAYER™ readers are self-monitoring for any tampering.
AVANTE NODAL & RTLS REAL-TIME VISIBILITY FOR DATA CENTER& CRITICAL IT OR OTHER ASSETS WITH OPTIONAL VISIBILITY FOR PERSONNEL AND VISITORS
System Configuration
Function & Characteristics
ZONER™-ASID(Asset Tag & Temperature Monitor)

Placed on each blade and SAN components
Placed on critical IT assets
Beacon every 5 seconds to provide real-time location at all times
Sensors for real-time removal alert

RELAYER™-RTLS(For Forming a Real-Time Locating System)

Real-time locating reader-monitor placed in 100 ft grid (4 to a typical data center)
Optional real-time locating reader-monitor placed in 100 ft grids throughout the facility
Received signal strength zoning to provide real-time location (patent-pending)
IP-based to provide need-to-know visibility anywhere

ACCESS-TRAKKER® SOFTWARE

IP-based access control and real-time locating software
Built on Microsoft .NET framework and SQL-Server database for easy web service interfacing with IP-based video and other systems

Installation and Verification

Installation of all reader-monitor units
Testing and verification of the system

ZONER™-GPID(Optional for General Personnel Badges)

Personnel badges for employees
Secure passive RFID for access control + active RFID for personnel visibility
Beacon every second to provide nodal visibility at critical access points
On-demand and/or upon-command real-time zoning in case of emergency

ZONER™-SSID(Optional for Visitors & Security Personnel Badge)

Badges for visitors and security personnel
Secure passive RFID for access control + active RFID for personnel visibility
Beacon at low power signal strength every second to provide nodal visibility + high power every five seconds to provide RTLS positions
Real-time location of visitors for security management and safety for the security personnel

RELAYER™-Nodal(Optional to provide real-time visibility of "IN-OUT" status by monitoring all access points)

Nodal access point monitoring of "in-and-out" activities to provide real-time visibility of all tagged assets and personnel
Each access point is equipped with a pair of nodal reader-monitors to provide 100% accurate record of personnel and/or assets in or out of the facilities at anytime
IP-based to provide need-to-know visibility anywhere
TYPICAL DATA CENTER COST SCHEDULE
TYPICAL CONFIGURATION
Costs
i. 300 ASID
(Call for pricing)
ii. 10 RELAYER-RTLS
(Call for pricing)
iii. Software
(Call for pricing)
iv. Installation & Verification
(Call for pricing)
BASIC TOTAL SYSTEM COSTS
Less than $50,000
v. 300 GPID
(Call for pricing)
vi. 50 SSID
(Call for pricing)
vii. 10 RELAYER-Nodal (Access Points)
(Call for pricing)
viii. Installation & Verification
(Call for pricing)
ADDITIONAL AND OPTIONAL SYSTEM COSTS
Less than $40,000
TOTAL FULL VISIBILITY SYSTEM COSTS
Less than $90,000