ZONER-RELAYER RFID System
AVANTE PERSONNEL ZONER™ BADGE
ZONER™ Badge is ISO card size that is light and carried in traditional badge holder.
Personnel picture may be included on the outside laminate.
Normal read range 10-20 ft for the active RFID chip.
Emergency read range 300 ft or more for the active RFID chip upon request by the badge bearer or system administrator (under special logistic control).
Passive ISO 14443 RFID chip is used for standard Wiegand access control.
The battery embedded in the card lasts for a minimum of 4 years for normal applications.
AVANTE ASSETS ZONER™ TAG
ZONER™ asset tag is as small as 1 inch x 1 inch and other custom sizes.
ZONER™ asset tags may be attached permanently inside the equipment.
Normal read range 10-20 ft for the active RFID chip.
ZONER™ asset tags may also be used in real-time locating mode anytime. In this case, the ZONER™ asset tag transmits at a higher power for a read distance of 300 ft outside and 100 ft inside the building.
Passive ISO 14443 RFID chip along with human readable label is used for backup data storage.
The battery embedded in the tag is engineered for use up to 10 years for normal applications.
AVANTE RELAYER™ READER-MONITOR
AVANTE RELAYER™ reader-monitor has a reading and signaling range of 300 ft and optionally more than 1000 ft with additional amplification.
AVANTE RELAYER™ reader-monitor works in "listening mode" under normal working conditions to monitor entrances and exits at nodal access points.
Upon specific command from the central station, a specific set of AVANTE RELAYER™ reader-monitors may change to "talk mode" by issuing alerts and commanding change of transmission power of the ZONER™personnel badges to allow real-time locating to function.
All RELAYER™ reader-monitors are equipped with Ethernet and RS 485 communication interfaces. They can also connect directly with existing WiFi networks in more remote locations.
All RELAYER™ reader-monitors are equipped with a backup battery to last a week without AC power inputs.
For more information on other applications:
Challenges in Access Control Management Met By AVANTE Personnel and Asset Visibility Systems
The following are the challenges of any access control management system in providing personnel visibility and asset visibility system
The ability to locate thousands of individuals within a campus-like environment such as University, Corporation and Governmental establishments both inside and outside of buildings without violating the individual privacy.
Most RFID based personnel and asset visibility systems are nodal based systems with the capability to locate personnel only within two or more nodal stations. The granularity of data is limited to the locations of the nodes of monitoring stations.
If a real-time locating beaconing approach is taken, a costly infrastructure must be put in place. To provide adequate battery life, the RFID cards are typically at least ¼" thick and not easily used as a normal ID badge.
WiFi based tags tend to burn too much battery power to provide readings longer than a minute.
There are huge privacy concerns when personnel are involved. Constant monitoring invades privacy and is generally not acceptable for civilian or even governmental applications.
Cellular phones with GPS are a potentially good device for locating an individual when they wish to be located.
But GPS only works well outside of buildings in open spaces.
GPS is not effective inside a building or even inside an automobile.
Both traditional RFID including WiFi networks and cellular phone systems lack the capability to alert individuals or groups of individuals in special areas or the whole population within a campus in case of emergency. Providing alerts to a group of individuals requires the a priori knowledge of all of their "IP addresses" and cellular numbers.
IP addresses do not guarantee the real-time location of individuals.
Even if a cellular number is known, contacting thousands of people via cell phone is not reliable and can potentially overload cellular signals resulting in dropped calls.
Most of RFID based real-time locating systems use beaconing mode and lack a mechanism to provide either visual or audio alerts to bearers of such tags.
This fact remains a challenge even when proper infrastructure for monitoring networks are put in place.
The use of real-time locating must not infringe on personal privacy.
This is a pre-requisite for any real-time locating system.
Part of the privacy requirement includes the inclusion of role-based access control on any data gathered using such systems.
Personnel visibility beyond the conventional nodal based information must be either "authorized" such as initiated by the person that is requesting emergency assistance or in true safety emergency under the guidance of public laws and preferably with law enforcement participation.
This requirement basically precludes "always-on" mode of real-time locating whenever personnel is involved. Thus, beaconing at high power that enables such "always-on" mode of operation should not be used.
Similar to a cellular phone with GPS, the locating use is only activated by the user or when the law enforcement agency has obtained similar authorization based on needs only.
AVANTE Personnel & Assets Visibility System addresses these challenges in access control management with the following ZONER™ badges and RELAYER™ reader-monitors: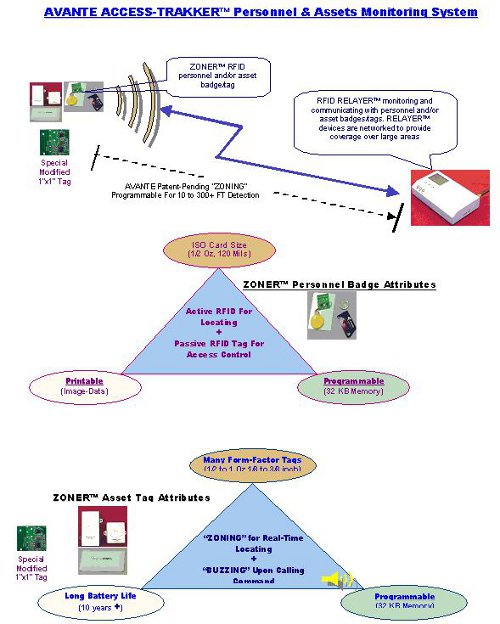 Web-Based Visitor Registration System
AVANTE PAVS visitor registration system provides both standalone and web-based 24/7 Internet registration for your visitors and special guests. The system is built on Microsoft .NET framework technology using Windows® 2000 operating system with SQL-Server or other relational database backend. The registration website is ideal for group and special event registration and synchronized in real-time with the onsite registration system.
AVANTE offers the most advanced registration management system coupled with RFID automatic identification and tracking capability for securing facilities, even those with constant visitors. The advantages of the AVANTE registration services include:
Customization, design, and updating of web-based and onsite visitor registration specific to your company or organization.
MS .NET platform and Web Service facilitate interfacing with existing access control databases.
Integrate visitor data and demographic information with specific causes and interests
Purpose-specific statement or message such as non-disclosure agreement, safety message, special thanks and appreciation, etc.
Online group and special event pre-registration and badge preparation
Auto receipt/confirmation with immediate return email for all successful registrations.
Real-time registration and check against lists for special attention.
Standalone or web-based for enterprise role/group controlled registration database.
Access alert based on visitor-specific privileges when portals are placed in judicial areas.
Automatic access expiration alerts can be pre-programmed into individual badges.
Daily registration lists and other statistical reports and management reports.
Daily updating of statistical reports by demographic or other criteria.