Reliable & High Temperature RFID Inlay

HIGH TEMPERATURE RFID TAGS
AVANTE produces a series of UHF and HF RFID tags with protected RoHS compliant interconnections for long-term high temperature applications. UHF tags are readable with reduced orientation dependence, they feature a long read distance directly on metal surfaces, tags can be immersed into water and the tag offers a reduced form-factor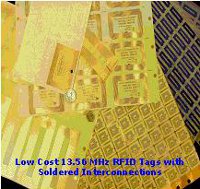 Besides HF inlays, AVANTE also makes high temperature and stable inlays using etched copper inlays and solder interconnections for UHF RFID inlets and tags with ultimate reliability. These UHF RFID tags can also withstand high temperature exposure and repeated high temperature sterilization processes.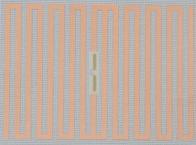 AVANTE has provided reliable and high temperature capable RFID inlets and tags in HF bands for more than ten years. Form-factors of RFID inlets vary in size and shape from as small as 1 cm square to as large as 4″x6″ labels and from round CDR/DVD inlets to 5mmx5cm stripe. RFID tags and inlets have also  proven to perform under repeated temperature/humidity sterilization processes.

RELIABLE AND HIGH TEMPERATURE RFID Tags, INLETS, AND CARDS
High Temperature Capability and Reliability of RFID Tags and Labels Start at Proper Interconnections Between Chip and Inlay Antennas
AVANTE manufactures RFID inlays for direct soldered attachment of chip onto inlays. Proper chip interconnections to RFID inlets are critical for the correct and reliable functioning of the RFID tags and RFID cards:
The read distance of RFID tags decrease with less conductive antenna traces. Even using the best silver polymer ink, the conductivity is in the range of 1/10 of the copper traces. The read distance is dramatically lowered by 30%-100% for the same form factor. This factor is not as critical for the ultra high frequency tags operating at 915 MHz.
More importantly, the interconnections from chip to antenna affect both the reliability and the read distance of an RFID tag. Degradation in the contacts affects both the HF and UHF tags in the same way. When the contacts are high enough, the RFID tags will not be functional.
The traditional contacts made with silver epoxy or compression contacts on copper or aluminum will work for a short time but degrade over time. The degradation accelerates at higher temperatures. This type of degradation will be a huge problem for cases and pallets labeled with RFID tags in the field. One cannot over emphasize that it should be corrected immediately.
Most of the 915 MHz tags are made with silver ink and Z-axis conductive joints. They are much more stable than the compression contacts for most of the 13.56 MHz tags. Even then, the performance of such tags can be measurably enhanced if they are copper traces with chips directly soldered for interconnections.
PATENTED CHIP-JUMPER RFID INTERCONNECTIONS (US 6,665,193; 6,973,716):
Soldering attachment of "chip-jumper" to etched copper for 13.56 MHz RFID inlays made by AVANTE has proven reliability and high temperature performance for RFID tags. The "chip-jumper" serves as "cross-over" as well as an easily surface mounting pick-and-place device. The connection between "chip-jumper" is soldered onto inlay on substrate with etched copper. Etched copper has an advantage of consistent conductivity and precision in dimension. The proprietary substrate performs at high temperature similar to that of polyimide but at the cost similar to PET polyester.
The use of "chip-jumper" interconnections for RFID smart tags and the applications thereof is a patented technology of AVANTE. The RFID tags and labels have been proven to provide outstanding production yield of over 99% and long-term reliability at high temperature as high as 150°C. Short term high temperature functioning and exposure at 300°C has also been proven.
This card size tag enables reading at more than 3 feet and has been used extensively for AVANTE tradeshow leads capturing and retrieval applications that also include walk-through portals.
SPECIFICATION ON AVANTE HIGH TEMPERATURE RFID TAGS & RELIABLE RFID INLETS
(@ HF 13.56 MHz & UHF 915 MHz)
(The following figures of tags are tuned and optimized @ 13.56 MHz for I-CODE and MiFARE from Philips Electronics. Chips with different internal impedances from other chip manufacturers will have a slightly different number of loops.)
AVANTE provides the following products for RFID users and manufacturers:
COMPLETE HIGH TEMPERATURE RFID TAG THAT WITHSTANDS HIGH TEMPERATURES AND STEAM STERILIZATION PROCESSES:
AVANTE makes RFID tags with either I-CODE or MiFARE chips based on the current design, special custom design or special geometry of the tag.
These tags are ready for applications of pressure sensitive or other adhesives.
AVANTE tags can also be pre-laminated with special "hot-melt" adhesive that can be used to directly laminate onto paper labels at 70°C.
All of the inlays and tags are rated for continuous usage at or below 150°C.
The "High Temperature Enabled Tags" are tags that have been enabled to withstand processing including molding or sterilization up to 300°C and must be specified during ordering.
COMBO HIGH TEMPERATURE RFID INLETS AND RELIABLE RFID CARD AND RFID TAG:
AVANTE can also provide patent pending I-CODE and MiFARE combination tags or cards for dual communication protocol requirements. For the card size inlets, a read distance of more than 30 inches is maintained for I-CODE.
HIGH TEMPERATURE RFID INLETS AND RFID TAGS WITHSTANDING HIGH TEMPERATURE STERILIZATION:
For the end users, AVANTE provides etched copper inlets with flexible COUPLER™ substrate from AI Technology. These RFID inlets are designed for direct soldering to flip-chip or flip-chip jumpers at intermittent temperatures up to 300°C. RFID tags made with these high temperature RFID inlets have been tested and proven to withstand repeated high temperature and moisture sterilization processes.
HIGH TEMPERATURE ISO 18000-6C EPC & RAIAG B-11 ("Tire and Wheel Label and Radio Frequency Identification (RFID) Standard") INLETS AND RFID TAGS WITHSTANDING HIGH TEMPERATURE MOLDING:
These UHF EPC compliant tags are made with etched copper antenna and soldered interconnections to withstand high temperatures and for long-term reliability. Each of the two form-factors of 1″x4″ and 2″x4″ can be read in a distance of more than 10 ft by most readers when molded and embedded inside a rubber tire. These tags are molecularly flexible and compatible with rubbers molded to form tires for long-term mechanical flexing in tires. They can be used for virgin or retreaded tires.
RFID INLET DESIGN:
AVANTE will provide engineering services for specialty size and shape design of antenna inlets for custom applications. Turn-around time for custom design is two weeks.
FLEXIBLE AND SOLDERABLE HIGH TEMPERATURE RFID SUBSTRATE (COUPLER™):
For the manufacturers of RFID smart tags, AVANTE will provide the proprietary copper laminate with solder-able high temperature flexible RFID COUPLER™ substrate from AI Technology. These specialty substrates are cost competitive with standard PET substrates in RFID applications with required conductive traces and interconnections. The additional capabilities of high temperature RFID tag and card applications and their unparalleled reliability provides value similar to polyimide-based RFID inlets. They are available in rolls of 12 inch and 24 inch with 1 oz copper foil. They are ready for standard chemical etching processes.