RFID KEY FOB, CARD & INLAY

Reliability of key fobs and cards starts with reliable contact interconnections between inlay antenna and the RFID chip. A wire-bonded module ensures highest reliability interconnections proven in the electronic industry.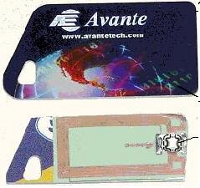 For high temperature stability including high humidity exposure, besides the interconnection reliability, the substrate and antenna inlay must also be reliable. AVANTE uses etched copper antenna inlay and soldering interconnections for industry proven reliability.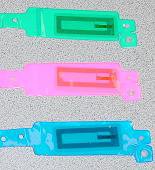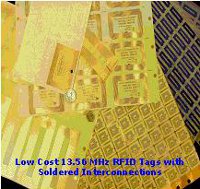 AVATE has more than 16 different size and shape inlay antenna designed and engineered for 13.56 MHz. The read distance depends on the area of the tag. The largest tag made is 7X7″ with a read distance of over 7 feet with the patent-pending reader/antenna made by AVANTE. All of the tags are made with 1 oz. copper on proprietary molecular flexible high temperature stable substrate made by AVANTE. All interconnections are made with soldering at temperatures as high as 300 degrees using the patented approach of "chip-jumper" (RFID industry refers to it as "strap", etc.). Interconnections have been proven reliable after extended exposures at both low and high temperature as we well as at high humidity at high temperatures
RFID Inlay and Embedded Key Fob and ISO Card Made for High Temperature and Reliability
FACTORS THAT DETERMINE RELIABILITY OF RFID INLAYS, CARDS AND KEYFOB
Properties and Attributes
AVANTE Patented Technologies
Traditional Methods and Technologies
High temperature stability

High temperature propriety low cost substrate for long-term usage at 200°C and higher with intermittent processing stability of up to 300°C for minutes.
Etched copper for high temperature stability.
Soldered interconnections and encapsulated to protect from high temperature reflow.

Standard inlay substrates are polyester (PET) that deforms at temperatures of 150-180°C and melts above 200°C, thus rendering them not applicable at higher than these temperatures.
Most have printed silver inks that will deform along with substrate melting or deformation.
Most use adhesive or mechanical attachments that may be detached or loosened.

Long-term Interconnection stability

AVANTE uses a wired-bond for its chip level interconnection and protected module for all its high temperature inlays. This proven interconnection ensures long-term stability at temperatures up to 300°C for long-term use.
The encapsulated module is soldered directly on etched copper for high temperature stability.
Soldered second level interconnections are encapsulated for processing at high temperatures beyond soldering temperature.

Traditional methods use direct mechanical contacts on aluminum, metal strap or printed silver inks. These interconnections may suffer oxidation and/or mechanical contact loosening and thus loose in read distance or reliability.
The metal strap or direct flip-chip first level interconnections may or may not be encapsulated.
The metal straps are attached to the tag antennae with adhesive or mechanical compression that may loosen over temperature and/or mechanical stress.
The applications for RFID (based on ISO 15693 or ISO 18000-1/6) tags and RF-enabled (based on ISO 14443, ISO 15693 and ISO18000-6C) cards and key fob products are endless.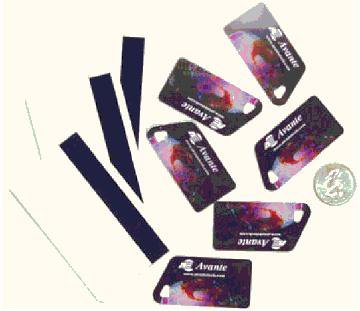 ISO 14443 For More Secured and Private Applications
Key Fob and Cards based on ISO 14443 are shorter range in read distance for more secured and more suitable for the financial and security applications:
Access control
Inside door
Building door
Passport or ID cards
Financial Transaction
Retail check out programs
Pharmacy and drug dispensing programs
Loyalty programs with points accumulations
Kiosk access and purchasing
Vending machine purchasing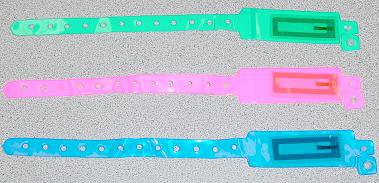 ISO 15693 HF and ISO 18000-6C UHF For Longer Range Convenient Applications:
Key Fob and Cards based on ISO 15693 or UHF ISO 18000-6C have longer read distance for more convenience while maintaining security.
Access control
Car Park
Gate Monitoring
Convenience Applications
Time attendance
Membership and activity monitoring programs
Identification and services
Frequent buyer or customer identifications
Library card and assets
Video and other rental membership
Gift cards and programs
Sports tickets and programs