Online and Onsite Attendee Registration Services

AVANTE provides onsite attendee registration services based on .NET framework technology while maintaining synchronized web-registration.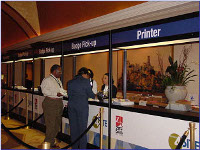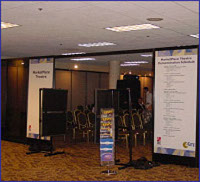 AVANTE patented RFID real-time access portals and RFID attendee badges provide real-time attendance auditing. The second generation "portal" system unlike its first generation solution is non-intrusive and non-obtrusive.
Web-Based Registration System Data Input Page.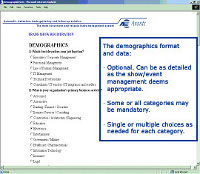 Web-Based Registration System Demographics Input Page.
RFID portals can be placed in conference rooms for real-time attendance auditing.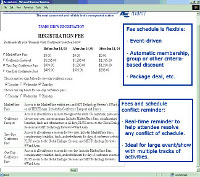 Fees and Scheduling Information.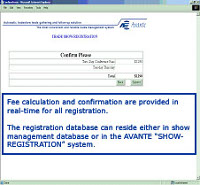 Fee Calculation and Confirmation
FULL SERVICE WEB-BASED EVENT AND SHOW ATTENDEE REGISTRATION AND HOSTING
AVANTE has expanded its service offering to include Web page design for shows and/or hosting of event besides web-based registration services with its secure data center services.
Web-Based Registration Services and Hosting Services
AVANTE offers integrated web-based show and event registration services:
24/7 Online Pre-Registration
On-site Self and Assisted Registration
Integrated registration management provided by AVANTE includes the following services:
Customization, design, and updating of web-based registration specific to your event
Integrated attendee data and demographic information with layered interests
Hosting of registration database at AVANTE or periodic upload to Show Management database
Secure online credit card cashiering (direct link to E-Commerce Merchant Account of show management)
Event-driven variable fee structure and automatic schedule conflict reminder
Date-driven variable rates
Membership or privilege-driven variable rates
Auto receipt/confirmation with immediate return email for all successful registrations
Optional Event and Show Hosting
AVANTE has a data center service to help show organizers host events and registration services.
Follow-up service
Provides EVERY visitor to your booth a direct e-mail from leadretrievalsystem.com linking to your company web site and product pages within 48 hours of the show closing. LRS™ will send an e-mail informing the attendee a post event report has been posted into his/her account. When the account is checked, the attendee will be presented with a list of every exhibitor he/she visited (which has elected to participate in the Follow-Up Service).
Connects prospective customers to exhibitors' websites, all at no extra cost. All of the information collected at a trade show is available on our website, for both visitors and exhibitors. Exhibitors can request their leads again and visitors can request an email with all the links to the websites of the booths they visited.
LRS™ is a surefire way to make show organizers, exhibitors, and visitors happy with their tradeshow experience.
On-Site Registration Services
Full-service onsite registration services
Self-registration and assisted registration stations, printer-encoder and server
Assist, provide or supervise onsite registration staff
Integration of pre-registrations with onsite registrations for duplication check
Instant alert for potential duplicate registration or badge issuing
Immediate replacement of 'lost' badges without duplication
Daily registration lists and statistical reports
Daily updating of statistical reports by demographic or other criteria
AVANTE provides 24/7 Internet registration for your exhibitors, attendees and special guests. The system is built on Microsoft .NET framework technology using Windows 2000 operating system with a SQL-Server database backend.
The registration website remains active and synchronized in real-time with the onsite registration system. The fully integrated system remains active through the end of the event to provide ultimate convenience for show attendees.
AVANTE offers the most advanced registration management system at the lowest cost in the industry. The advantages of the AVANTE registration services include:
Customization, design, and updating of web-based registration specific to your event.
MS .NET platform and Web Service facilitate interfacing with any database to directly incorporate registration data into organizer's show database.
Integrated attendee data and demographic information with layered interests
Secure web-based credit card cashiering (direct link to E-Commerce Merchant Account of show management)
Event-driven fees structure and automatic schedule conflict reminder
Online educational and social event booking and inventory management
Date-driven variable rates
Membership or privilege-driven variable rates
Auto receipt/confirmation with immediate return email for all successful registrations
Real-time registration duplication checking
Optional hosting of registration database at AVANTE or direct hyperlink transfer to Show Management database
Daily registration lists and statistical reports
Daily updating of statistical reports by demographic or other criteria