Car theft prevention and recovery systems require real-time locating whether vehicles are mobile or in the garage and should ensure the proper drivers are operating each vehicle
In the case of moving personal mobile assets such as valuable vehicles, the active ZONER™ RFID badges on operators or owners and the onboard RELAYER™ reader with a hidden communication module provides vehicle theft prevention in parking garages and quick recovery in case of vehicle theft.
An onboard RELAYER™ reader is monitored by a second superstructure of network RELAYER™ monitors ("masters") on the garage to provide real-time locations at all times.
Each access point is controlled by a RELAYER monitor to assure that a proper driver with "correct" ZONER™ badge is within 10 ft of the vehicle.
The tracking operation is activated when the owner reports the vehicle is stolen. The onboard RFID RELAYER™ reader is in direct communication with a hidden communication module that is equipped with GPS for mobile locations and a cellular and/or satellite communication to report its position whenever a proper driver is not within 10 ft of the vehicle.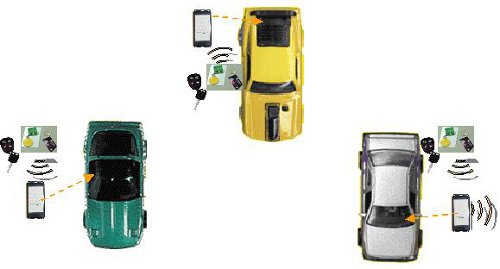 RELAYER readers and communication modules in a variety of positions inside a vehicle provide cellular communication and internal RF communication with driver/owner ZONER card and/or key fob tag.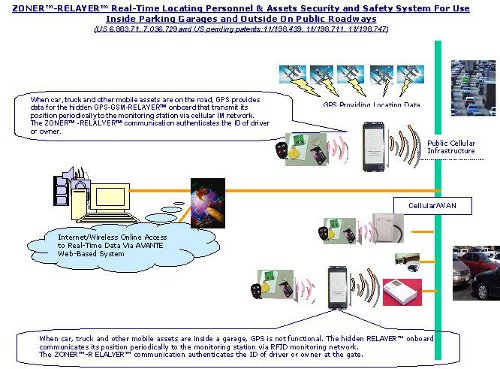 Please refer to the following links for other specific applications using this patented RFID real-time locating system: